Have you ever wondered a life without a 9-5 job?
Have you ever thought of being your own boss?
Have you ever had the joy of earning a passive income?
Hmm, probably not. The work freedom, satisfaction, financial stability, confidence, determination and much more! Blogging has gave me all the things one can never imagine in a salaried job. I am so grateful to all the bloggers who inspired and helped me to get to where I am now.
All of us craves for such a dream life, isn't it? 😀
That's the reason why I am here to help all those who want to succeed in blogging. This guide has all the essential information to make your first paycheck through blogging.
For your information, I earn around $3500 per month on average and the earnings are gradually getting increased even though I hardly spend time on blogging. I still get surprised to see my income figures because the last article I published was on the topic of Facebook hackers in 2016.
It is now 2020 and the revenue is still on the rise.
Trust me, the happiness you get from seeing your passive income is off the charts.
Readers should not mistake blogging as an easy option to make money. There are years of hard work behind my success.
I started my first blog (Tricksbin) in 2010 when I was doing my first year of computer science engineering. I didn't had a computer in hostel during that time, therefore I use to blog only when I get home. The blog TRICKSBIN was created in Google's free blogging platform called Blogger. I wrote about tips and tricks about mobile recharges, proxies, VPN, etc.
It took around one and half years to get my first paycheck of $106 from Google. I was stunned to see my first hard earned money because I have not invested a penny on it.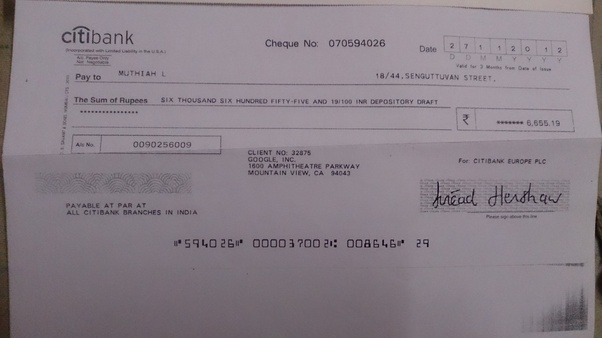 I said myself "AWESOME".
That is exactly when I realized the potential of blogging and making money online. I started learning things rigorously, developed various blogs and websites to keep myself constantly updated.
In 2016th of August, started this blog "The Zero Hack" to share my knowledge and also to make money online 😉
A few number of well researched and comprehensive articles published in 2016 let me earn around $20k+ US dollars in just 2017 (and it is still growing). That is the real power of passive income.
Interesting, no? 😀
Are you fascinated to start to your first blog?
Really?
Let's begin without further delay.
Are you fit for blogging? / Who can be a blogger? 
The two skills required for blogging are writing & researching. You can even be an average writer (like me 😛 ), it doesn't matter at all. What matters the most is PPP (patience, perseverance & persistence). You will definitely improve over time if you work hard.
The PPP strategy is not just for blogging, it works wonderfully for any kind of endeavors.
There are four steps involved in blogging such as choosing niche, creating blog, driving traffic and monetization. Driving traffic needs patience in huge amount (especially for those who choose zero investment plan). Monetization is somewhat easy if you follow the tips we are about to share here.
Earning your first paycheck may take up to a year depending upon the niche and progress. Not everybody is blessed with same level of intelligence. But hard work never fails irrespective of your intelligence.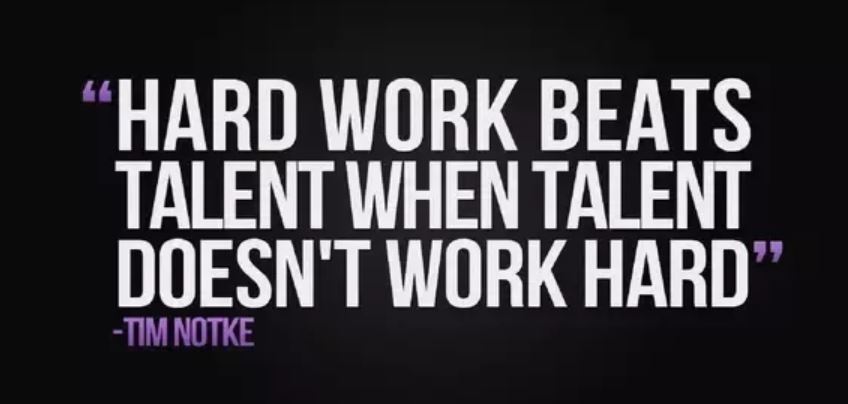 Things will become easy once you earn your first paycheck.
Choosing WordPress or Blogger
Blogger is a free blogging platform powered by Google. On the other hand, WordPress is a gigantic open source CMS platform powering more than 30% of all internet websites. The number itself says that it is the best CMS on the Internet.
We don't need to talk further because WordPress is the clear winner.  You should choose wordpress to start your blog. But you need to pay around $60 for web hosting, only then you can setup your wordpress blog.
If you do not have money to invest, you can go with blogger since it is a zero investment option. However, you may still need to migrate from blogger to wordpress once you start earning money because blogging has various limitations. You cannot depend entirely on blogger to make consistent income.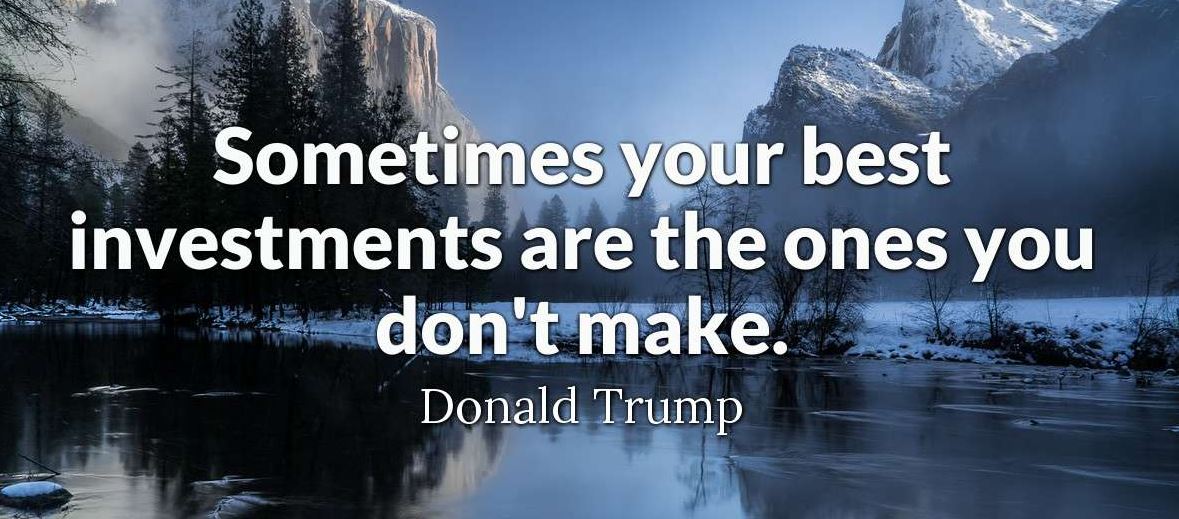 Investing money increases the earning potential and reduces the time taken to make your first paycheck. Hence, don't hesitate to invest money if you are capable! As always, know well about the investment before making to make it a WISE investment. 
We already have a detailed article on how to setup make money using blogger. In this article, we will cover WordPress and its know-hows.
Choosing Niche
What are you gonna write?
To answer this question, you must know what do you like to explore. It should be something
you are passionate about.
worth all your time.
that you will never get bored of doing.
Take a list of topics that you are interested. It can be health, technology, pet care, electronics, vehicles, gaming or anything that matters to you. Remember, you need not be good at it but you must be willing to be good at it. 
Always choose broad niches like health, lifestyle, fashion, etc. Because you will have massive amount of sub categories in each and every broad niche.
Once you have a list of topics ready. Then its time to narrow down the list.
Open Google trends (tool to analyse and compare what's trending).
Enter the first one in the search bar.

You will see a graph with points out of 100 as given in the below snapshot.

Then enter your second topic in the compare field. Now you should see the comparison between the selected topics. The same way you can compare up to 5 topics at a time.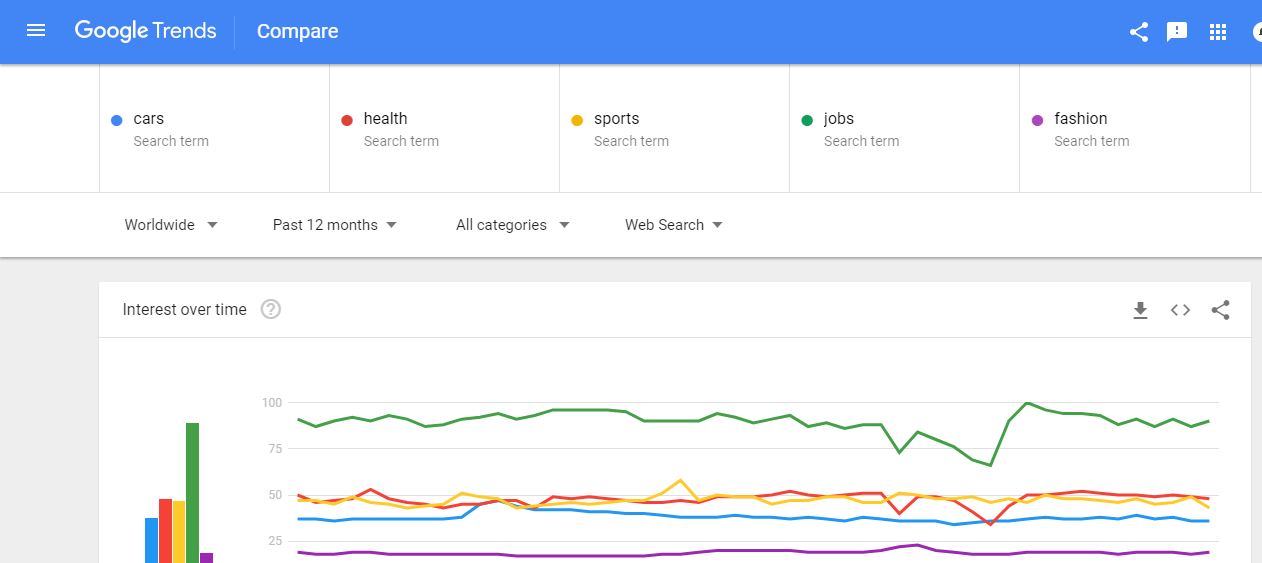 The greater the number the better the opportunity and competition 😛 It is obvious to have huge competition when there are great opportunities. Don't be afraid of the competition, you can easily succeed if you properly follow the steps mentioned here 🙂
Likewise, you can compare each and every topic to get the most trending topic out of your list.
Perfect, you have now chosen your niche!
Start small and grow exponentially. Let's say you have selected pet care niche. You should write about dogs initially. Once you get good at it, you can cover other sub categories i.e other pets.
Choosing Blog Name
Blog name is more important than your own name 😉
It should be unique like an email username because you need a dot com (http://yourblogname.com) domain to get your blog up and running.
In today's world, DOT COM domains are much more scarce than drinking water 😛
Seriously, go and search for a domain name, you will have a hard time picking one. That's the reason why I advice you to choose something unique, therefore, easy to obtain a dot com domain.
Blog name should also be easy to remember since that is going to be a brand in longer run.
For example, if your blog is about gadgets, you can choose something like GADGETS HACKER.
Gadgets hacker is easy to remember and completely relevant to the niche. gadgetshacker.com is unavailable since it is already bought by a hacker 😛
I believe you have got the idea of choosing a blog name. Let's move to the next step.
Creating Your First Blog
Creating a blog is as easy as installing an app on your mobile phone 😉
If you are techie, who knows the nuts and bolts of domains and hosting, you can skip the explanation and proceed to the next step.
As you know, blog is a regular website. You should know the basic working of a website before you setup a blog.
Web hosting and domain are two terms frequently used when we talk about websites.
Purchasing web hosting and domain name is very similar to getting smartphone & mobile number.
Web hosting is like mobile phone and domain is like SIM card / mobile number. A SIM / mobile number can't function without a mobile phone isn't it?
The same way a domain (example.com) is useless without web hosting.
Web hosting server is a computer that stores and computes all your website information and serve it to the users around the Internet when requested.
When you type www.google.com in browser address bar, your internet service provider will connect you to Google's server and the server will send you back the Google homepage.
I hope that pretty much explains the basics of hosting and domain.
If you find it complicated, leave it as it is and follow the easy steps given below to get your blog ready.
Setting up WordPress blog through Bluehost
As I have said earlier, you have to get web hosting to start a blog. There are tons of website & blog hosting services available but I recommend Bluehost for their excellent support & service. I will get a commission if you purchase through my link since I am recommending their product to you. We won't recommend any product or service until we thoroughly test it. FYI, this blog is hosted on Bluehost dedicated server.
Once you open this link, you will find the available options to get started with. At the time of writing this article, the price for a wordpress blog in Bluehost starts with $3.95 a month that's roughly $150 for 3 years but don't go for 3 years. You should choose 12 month tier at the price of $65.40. 
Click on the green button that says, 'get started now' and then choose your preferred plan. The page will then lead you to another where you will be asked to choose a domain. Domains are free if you purchase their hosting plan. Nice, no? Importantly, you will not have the headache of setting up domain name servers. Bluehost will take care of all those things.
Type your blog name in the new domain box and click next. Then comes the page where you need to fill a form with your details. Ensure that you have unchecked all the extra service boxes to match the cost of $65. Once you are done with filling the details in the form, click submit.
If you are following the form, you will automatically be logged in.
Once you are logged in, you will be seeing the Bluehost control panel where you will be provided with great list of tools. Look out for the WordPress icon under the website section and click on the same.
Now you will see a market place which puts up great professional themes and plugins for WordPress.
You will be asked to choose the domain to which you want to install WordPress to. Select the particular domain (your blog name) and click on the install button.
If there are any other themes already pre-installed in the domain, Bluehost will ask your permission to override the same.
Then you will be provided with two options. The first one being advanced options where you can set up the Title for your website, create an admin username and a password for the same.
You might also be prompted to enter your email address that you want to be associated with this domain.
Once you are done with appropriate credentials for your website, you must login to the second option where you should agree to the terms and conditions.
After this you can click on the green install button. This will successfully install the WordPress in your website.
After successful installation of wordpress blog in your website, you could log into the WordPress dashboard of your website with your admin credentials. Once you type in yourblogname.com/wp-admin you will be prompted to enter the admin credentials which will then let you inside the admin side of your WordPress blog.
Before going to the next step, I would like to tell you something important.
…….
…..
…
.
CONGRATULATIONS! You have taken the first step to make money through Blogging!!! 
What next?
We have our blog up and running and now it's time to choose a template / theme / design to make our blog authentic and professional.
Installing a theme for your Wordpress blog
Once you are in the WordPress blog dashboard, you will find the option Themes under the Appearance section. Click the Themes and then the Add New button.
You will then be listed a number of free themes to choose from for your blog. You will also be listed the options that help you shortlist the themes using some filters. The filters will help you choose the desired theme for your blog based on the color, appearance and the features you might be looking for.
You could mouse over any of the themes to find two options that let you preview the theme or install the same. You could try preview of any themes before you install them.
Once you narrow down on any particular theme, you could click on the install button and the files for that particular theme will be downloaded to your website. Once the download is done you will find the button Activate on that particular theme which you could click on to activate the theme for your blog.
Creating the first post on your WordPress blog
Creating a post or an article to be published on your blog starts with you by getting into blog's dashboard. You can do that by entering admin credentials when asked for after typing in yourblogname.com/wp-admin.
After you type in the admin credentials you would be seeing the WordPress dashboard. On the left panel under the posts option you would be seeing the Add New option which when you click on will open up a new page for you to create a post.
A standard new post page will have a Title bar with default text that says 'Enter Title Here'. Beneath which you will find a space to fill in your article and also options to edit the texts. The standard editing portions contain options such as "Add Media" which helps you include media such as Photos and Videos into your article.
Beneath this text box, you will find post settings which helps you design the post, the way you want it to.
The right panel has options that lets you choose the page in which you want the particular article to be published. Another option named as 'Tags' also help you add tags related to the particular article that might help the visitor of your blog in navigating.
Once you are done with the typing and editing of the article, you could preview the same with the help of Preview button present on the right side of the screen.
You could also save the post as a draft using the Save Draft button.
Once you are happy with how the post has shaped up, you could publish the same by clicking on the 'Publish' button on the right side.
Whoa! You are half done!!! 
Now comes the tricky part, driving traffic.
Driving Traffic to Your Blog
This is the hardest part of every blogger's journey. Your task is not accomplished until you drive people to see your blog.
How should you drive people to your blog? 
Social Media
Search Engine
Referral
Social Media
Facebook & Twitter plays a major role when you choose social media. So you should create your brand pages on Facebook & Twitter. There are two kind of promotion you can do to your Facebook and Twitter pages.
Organic – Invite all your family and friends to like and follow your page.
Paid – Promote your page using Facebook and Twitter ads. I don't know much about twitter ads but Facebook ads work really well if you do it correctly.
Facebook

 
Facebook is the consistent source of traffic for many publishers. The only thing to keep in mind is People Engagement. 
Whether you do paid promotions or not, it doesn't matter but you must keep your page interactive by posting a lot of user-engaging content that can be photo, video or messages instead of posting just links to your article.
A number of page likes on a Facebook page doesn't matter at all if your page is not interactive by posting user engaging content. 
For example, let us say that you have 3000 page likes and you are posting a photo to your page. What's happens next?
Do you think Facebook will send your photo to all those 3000 people's news feed?
NOT AT ALL. 
There is something called Facebook News Feed Algorithm. It ranks posts based on user's interest. There will be thousands of posts on queue to a user's Newsfeed. So getting your post to all page liker's news feed is nearly an impossible job. That's the reason why I stress people engagement. If I spend more time on your page's post, then your future posts have better chances to appear on my news feed.
Here's a take on News feed algorithm by Facebook VP. Watch this video to know more about their algorithm.
If you are going to spend some money on Facebook ads, then
 read our Facebook ads tutorial to create a profitable Facebook ads campaign
.
Read this article if you need help in creating a Facebook page.
Twitter
Twitter is an alternative to Facebook. Hashtags play a major role in Twitter. If you are posting a viral content with its appropriate hashtag, then you will get good reach irrespective of your followers. But don't solely depend on Twitter since it does not have great potential, unlike Facebook.
Search Engines
I believe you know the term Search Engine.
Without Google and Facebook, most people won't realize the existence of Internet 😉
Hence, it is not a surprise that majority of us don't know any search engine other than Google.
Let's forget other search engines and focus on Google since others have a minority of the search engine market share.
Search Engine 

Optimization 
Search Engine Optimization is a technique used to optimize our website to get higher rankings in Search engines like Google, Bing, Yahoo etc. Search engine traffic is the most lucrative free traffic you can ever get. This is where each and every blogger struggles.
Let me tell you a simple overview of how a search engine ranks websites.
Search engine (mainly Google) ranks web pages based on two factors
Reputation
Relevance
Both of these factors are important. I feel relevance don't matter a lot when your website doesn't have any reputation i.e. new domain don't have any reputation.
Reputation
How does a search engine find out whether a web page is reputable or not?
There are many things involved in finding a reputation of a website. Page rank is the most important factor used to find out the reputation and it is calculated based on backlinks to your blog.
In simple terms, reputation is measured by calculating how many websites talk about your website through linking your blog URL. 
Relevance
Relevance is basically finding out whether your website is relevant to the user searched query or not. Let us say a user searches "top blogging tips", here relevance signal analyses whether your website has enough content related to blogging tips. However, reputation occupies the first place and then comes relevance signal.
This is the most simplest form of explaining how a search engine ranks websites. Abundant of things have changed in terms of reputation and relevance. We can't stick to the old story of backlinks and other signals to rank our website on Google. Of course, backlink is still the most prominent signal but the approach towards calculation of backlinks has changed a lot.
Let us see the takeaways to get good traffic from Google.
Takeaways to get the most out of Google
Please note that the following tips are written for those who do not have SEO knowledge. It is useful for those who are looking to get basic traffic needed to make their first pay check. We will soon publish a comprehensive article on SEO for those who are looking for advanced SEO strategies. Subscribe to our Blogging and Digital Marketing newsletter to get email updates about it.
Great content is the key to the kingdom. Everyone says great content is enough but nobody will tell you what is great content. When I say great content, I actually mean unique, comprehensive and well researched content. Put all your time on research and produce a great piece of content that your blog rivals can't even imagine. If you are gonna write an article about LED television, you should have covered all the aspects of LED TV. It should give all the information in a single place to the user and they shouldn't go to other website once they read yours.
Build your brand using social networks. Building your brand in social networks helps you gain reputation in the eyes of Google. Create a Facebook page for your blog and get people engaged by posting lot of great photos and videos. Article links hardly get shared, therefore, make use of videos and photos. A post like this (containing multiple photos that represents your article and link is placed in description) instead of posting just links may gain user attention.

Facebook videos has higher engagement rate than photos. If you can create a short video to promote your article then you can reach a great number of people.
Spend some five to ten dollars on Facebook ads to get initial traction. Choose boost post option to boost your posts relevant to your blog niche. Check this Facebook ads tutorial if you need help.
Make use of Pinterest to share images related to your article. Vertical images works best in pinterest. If your pin goes viral, then your article will easily gain traffic from Google.
Help people by providing value. Make use of websites like quora to answer questions of people and share your blog link where ever needed. Don't spam. Provide value.
Read other blogs in your niche and share your feedback in comments section. Paste your link where ever needed. Again don't spam. It should be valuable to the website / blog owner, otherwise, they will mark your comment as spam.
Link to other useful websites / blogs in your article. Many bloggers mistakes that if they link to their competitors they will not do well in Google. Actually, linking other useful articles help Google understand your content easily. But don't link to same kind of article, you should link to similar articles not the same one. For example, if you are writing about list of online jobs, you should link to a jobs portal instead of another list of online jobs
Once you link an article, email the website owner and share them your article link mentioning that you have linked to their webpage. If they find it useful, they will link back to you or at least they will share your link to their Facebook or Twitter.
Quality over Quantity. This is very important piece of advice that other bloggers fail to follow. Publishing even one article a week is good but it should have great content.
Register your blog on Google search console to monitor clicks and impressions. Improve articles that are performing poor. Update existing articles that are getting more impressions but less CTR.
Create your brand page on Google+ and update your links regularly. It helps gain traffic from Google after a period of time.
Internal link structure is very important. Ensure your website hierarchy is good. All the paes in your blog should link to homepage and all the category pages.
In-article links has greater value than any other links. It means you should link to an article in another related article as given in the below screenshot. 
Monetizing Your Blog
Monetization is done through several techniques. We will cover a few basic techniques.
Advertisements
Affiliate Marketing
Making money through ads require high amount of traffic to make good income where as affiliate marketing need targeted traffic (not necessarily high). It is better to concentrate on affiliate marketing initially since you will get less traffic.
Advertisements
There are two options available to get advertisements for your blog. One is to choose from a wide range of third-party ad publisher programs like Google Adsense, Media.net etc. Second is to get direct advertisements. Direct advertisements are really hard to obtain when you are starting. So, we will tackle the first one – Ad publisher programs.
Google Adsense and Media.net are two best ad publisher programs to monetize your wordpress blog. I recommend Google Adsense over Media.net. But we will cover both of them separately.
Google Adsense
Google Adsense is the best way to monetize your blog but to do so, you should have an approved Adsense account. Approval of Adsense account is difficult until your blog gets some traffic. You should comply with all their terms and conditions before submitting an application. Therefore, it is advisable to apply for AdSense only when you get some traffic.
How Adsense works?
In simple terms, whenever a user clicks on an ad placed on your blog, you'll get money. There are a lot of other factors that may influence your earning potential. We will cover a few major Adsense optimization techniques in the following section. Please read Adsense terms and conditions properly. If you click on your own ad, AdSense may ban your account.
You can login to your Adsense dashboard to check Adsense earning. You will get payment in your bank account once you reach the payment threshold of $100 USD.
Few AdSense terms you should know before we jump into the optimization strategies.
Cost Per Click (CPC)
Cost per click determines how much you are paid for a click happened on an ad. AdSense is majorly a CPC network, so your earnings are much dependent on CPC. CPCs are random, differs from one ad to other. Geographical location affects your CPC to a great extent. For example, American countries have greater CPC than Asian countries. Hosting niche has greater CPC than Beauty niche. BBC.com will have greater CPC than yournewwebiste.com. Likewise, the list goes on and on.
Impressions
An impression represents single viewed ad. If your ad is viewed by 1000 people, then you are said to have 1000 impressions. Remember, impressions are different from page views. You can have 2 or more ad units on a single page. So a page view is equal to 3 impressions (assuming you have 3 ad units placed in a page).
Revenue Per Thousand Impressions (RPM)
The name itself tells you that it represents revenue earned from thousand impressions. Page RPM represents revenue obtained from 1000 page views.
Click Through Rate (CTR)
CTR is a percentage of how many clicks happened over the number of impressions delivered. The formula to obtain CTR is the number of times an ad is clicked divided by the number of times the page or ad unit is viewed.
Google AdSense Optimization Techniques
There are various factors that may influence your earnings such as niche, Geolocation, domain authority etc. We should optimize our ad units to get the most out of AdSense.
There is no limit on the number of ad units you can have on a page but AdSense restricts the loading of ad units if you don't have enough content. If you have 4000 words article, then you can have 6 to 8 ads in it. So, place a reasonable number of ads according to the amount of content you have.   
Always experiment ad slots by changing Content, InArticle, Infeed and Link ad units to find out which ad units perform better.
Content unit tends to have high CPC. Link unit tends to have high CTR. You can decide which one to choose only after thorough experimentation. Sometimes you need to use both at different places.
Place ads where your visitors spend a lot of time. For example, visitors spend a lot of time in the content area, so you should include ads in between the content.
Location of your visitor is very much important. Concentrate more on getting visitors from American countries like US, Mexico, Canada to get higher CPC.
Create a good user experience, so that your visitor may spend some more time on your website.
Link related posts in each and every article to increase page views per visitor.
Media.net
Media.net is one of the good alternatives to Google AdSense. But a you need good traffic before you can apply for a Media.net publisher account. Once you get good traffic for your blog, follow these steps to apply for a media.net publisher account.
Navigate to Media.net
Enter your name and website address
Wait for few days to get approval
We can place ads after approval.US & UK traffic is crucial in getting higher revenue in Media.net. Otherwise, you will get a decent revenue. Personally, I find AdSense do a better job than Media.net in terms of quality of ads and Revenue. The choice is yours.
Affiliate Marketing
Affiliate marketing is a great way to monetize your blog. You need to promote links of a product or service in your blog to make money. Whenever a purchase is made through your link, you will get a certain percentage of commission. This process of marketing products and services is called Affiliate Marketing.
To earn affiliate income, you should promote products or service related to your niche. If your blog niche is about Books, then you should register yourself in a various bookstores affiliate program.
You can find various advertisers for your niche in affiliate marketplaces like Commission Junction, Impact Radius.
After registration with the respective program, you have to grab affiliate links from products and place it in respective posts.
The good thing about affiliate marketing is Cookie validity period. If there is 90 days cookie period, then your visitor can purchase the product or service within the 90 day period. Therefore, you will have guaranteed commission. Also, you will get paid for whatever they purchase through your link irrespective of the linked product/service.
If you follow the steps mentioned above, you should start getting some traffic with in the first four months. If traffic comes, you can use it earn through affiliate marketing. And also, you can apply for an AdSense account. Once you get it approved, you will have two ways to earn from your blog.
I hope this article explains all the necessary information to make money through blogging. Please let me know if you have any doubts using the comments section given below. Subscribe to our blogging newsletter to get future updates about blogging.