In this post, we are going to see step by step process of creating a free blog on Google owned blogger also called BlogSpot and how to earn money with your blog without investment. Since it is a free option, it will take some time to earn money. If you want to make money quickly and ready to invest a few bucks, you should check out our start wordpress blog guide.
A blog is basically a website that is regularly updated by an individual or a group of individuals. Blogging is one of the best ways to make money online. Blogger.com / Blogspot.com is a free blog service provided by Google. It is one of the most used blogging platforms around the Internet. There are many other good alternatives like WordPress, Tumblr etc.
There are several people who made blogging as their main profession and earning a good sum of money. I would like to share a few examples for your inspiration.
SmartPassiveIncome – Pat Flynn is an American entrepreneur, blogger and podcaster best known for his blog and podcast Smart Passive Income. He is making $150,000 monthly on average from his blog and podcasts.
Labnol.org aka Digital Inspiration – Amit Agarwal is a leading technology blogger. For almost a decade now, Amit has been writing at Digital Inspiration. Internet sources say that Amit might be earning $40,000 to $45,000 monthly. His blog digital inspiration is known for software tutorials. Digital Inspiration website's primary visitors are from the US, UK, and India.
Shoutmeloud.com – Harsha Agarwal is another famous blogger in India who writes about blogging and making money online. He is earning around $35,000 monthly from his blog ShoutMeLoud.
Missmalini.com – Miss Malini is the top female blogger in India, she primarily writes about Bollywood. She is making approximately $30,000 per month. She is a great inspiration for many females in the field of blogging.
I promise you that you may not be able to earn this much amount of money easily 😉 (yet it is possible if you work hard) because the people listed above have spent years of hard work to get to where they are now.
But I assure you that you can earn a decent income to run your life through blogging. All you need is PATIENCE.
Also read 100 ways to make money through online jobs.
For your information, this is 3000+ words article with a lot of useful information, so it is not possible for a few of you to read the complete article right now. Therefore, bookmark this page to visit later.
1. Choose Your Blog Topic
The topic is the most important factor for blogging. You can select any topic you want but make sure you are willing to explore that topic. Just ask yourself two questions after selecting a topic.
Am I passionate about that topic?
Does this topic have a good number of audience?
If you have valid answers then you are ready to go to the next step. You can take your own time to decide since this is the most important step of all.
2. Choose Your Blog Name
Blog name should explain what your blog is all about and it should be easy to remember. The most important thing is that it should be unique like email username. i.e. yourblogname.blogspot.com. That will be the URL for your blog. Initially, it will be a subdomain of blogspot.com. Later you can buy and setup your own custom domain i.e. yourblogname.com. Make sure your blog name is unique so that getting a custom domain won't be a problem.
Suggestion For Custom Domain
I personally recommend you to buy a custom domain for your blog but it is completely optional since we are discussing zero investment plan.
In Blogspot, you will receive a subdomain i.e. infantinfo.blogspot.com that is owned by Google and you cannot transfer your blog to anywhere but when you purchase a custom domain i.e. infantinfo.com it can be converted to other platforms like WordPress easily and also you won't lose your existing visitors.
Anyway, you have to buy custom domain once you start earning from your blog. Don't setup your custom domain earlier in blogger even if you buy a domain. Wait for few months before adding the custom domain to your blog due to SEO reasons. You might be wondering why. I will explain this in the SEO section as follows.
3. Create your free blog in Blogspot / blogger
Follow this step by step tutorial to create your own blog in blogspot.com and make your first blog post.
4. Driving Traffic To Your Blog
This is the hardest part of every blogger's journey. Your task is not accomplished until you drive people to see your blog. For traffic, great content isn't enough.
How should you drive people to your blog?
Social Media
Facebook & Twitter plays a major role when you choose social media. So you should create your brand pages on Facebook & Twitter. There is two kind of promotion you can do to your Facebook and Twitter pages.
Organic – Invite all your family and friends to like and follow your page.
Paid – Promote your page using Facebook and Twitter ads. I don't know much about twitter ads but Facebook ads work really well if you do it correctly.
Facebook
Facebook is the consistent source of traffic for many publishers. The only thing to keep in mind is People Engagement.
Whether you do paid promotions or not, it doesn't matter but you must keep your page interactive by posting a lot of user-engaging content that can be photo, video or messages instead of posting just links to your article.
A number of page likes on a Facebook page doesn't matter at all if your page is not kept interactive by posting user engaging content.
For example, let us say that you have 3000 page likes, you are posting a photo to the page.
What happens next?
Do you think Facebook will send your photo to all those 3000 people's news feed? Not at all.
There is something called Facebook News Feed Algorithm. It ranks posts based on user's interest. There will be thousands of posts on queue to a user's Newsfeed. So getting your post to all page liker's news feed is nearly an impossible job. That's the reason why I am stressing people engagement. If I spend more time on your page's post, then your future posts have better chances to appear on my news feed.
If you are going to spend some money on Facebook ads, then read our Facebook ads tutorial to create a profitable Facebook ads campaign.
Twitter
Twitter is an alternative to Facebook. Hashtags play a major role in Twitter. If you are posting a viral content with its appropriate hashtag, then you will get good reach irrespective of your followers. But don't solely depend on Twitter since it does not have large potential, unlike Facebook.
Search Engine Optimization
Search Engine Optimization is a technique used to optimize our website to get higher rankings in Search engines like Google, Bing, Yahoo etc. Search engine traffic is the most lucrative free traffic you can ever get. This is where each and every blogger struggles. Let me tell you a simple overview of how a search engine ranks websites.
Search engine ranks web pages based on two factors
Reputation
Relevance
Both of these factors are important. I feel relevance don't matter a lot when your website doesn't have any reputation i.e. new domain don't have any reputation.
Reputation
How search engine find out whether a webpage is reputable or not? There are many things involved in finding a reputation of a website. Page rank is the most important factor used to find out the reputation and it is calculated based on backlinks to your blog. In simple terms, reputation is measured by calculating how many websites talk about your website through linking your blog URL.
Relevance
Relevance is basically finding out whether your website is relevant to the user searched query or not. Let us say a user searches "top blogging tips", here relevance signal analyses whether your website has enough content related to blogging tips. However, reputation occupies the first place and then comes relevance signal.
Blogspot Domain Reputation
I have said earlier that to keep your blog in the subdomain of blogspot.com, it is because blogspot.com has got great domain authority (reputation in search engines) so there are higher chances for your blog to get higher rankings in Google without much effort.
If you concentrate more on creating high-quality content, then it is easy to get high rank in Google.
Trust me, you can easily rank for competing keywords if you follow this trick. I have tested it personally. Let me show you a proof.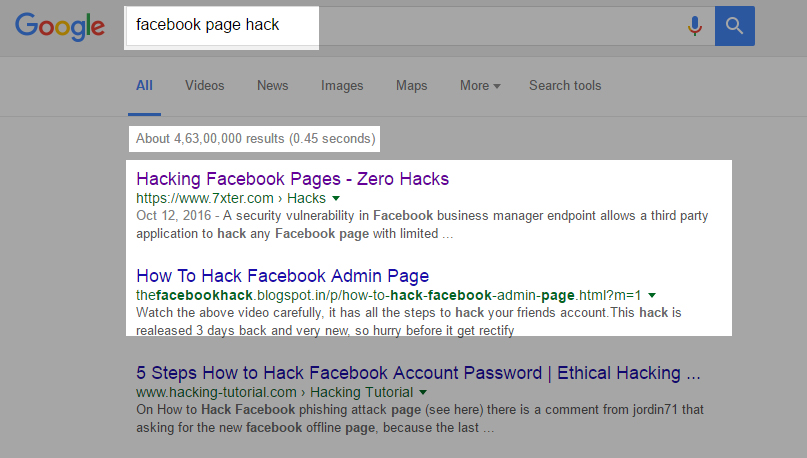 See the snapshot placed above. The second result is a blogspot blog that is ranking for a high competitive keyword "Facebook page hack" out of 46300k results. I do not find any strong backlinks pointing to the page when I look at their backlink profile, then how come this blog page is ranking for a high keyword?
It is because of the high domain reputation of blogspot.com and that is why it is ranking even though that particular blog post didn't get any backlinks.
Of course, this is not the only reason, there are other factors too, but what am trying to say is that getting a higher ranking isn't tough with blogspot.com while comparing to a brand new domain.
If you are really serious about making money in short period of time, then you should invest some money in SEO tools like SEMRush.
Also read SEMRush review before you subscribe to their service.
Be aware of the copyrighted and illegal content, Blogger will suspend your account if they see you involved in a violation of their terms and conditions.
After a few months, you can setup a custom domain to transfer yourblogname.blogspot.com to yourblogname.com (301 redirect). This process will transfer all the SEO benefits (page rank, domain authority) of your old domain to new domain. So you may not lose your visitors and search engine rankings.
Referral
Referral users are users that come from other websites to your blog. You can ask your family and friends who have their own blog to link to your blog that might drive some traffic. Also, you can write to other bloggers/website owners to link your page to their relevant content.
Let us move on to the final step monetizing through Adsense 🙂
5. Monetizing Your Blog
Monetizing your free blog can be done using several techniques. We will cover a few basic techniques.
Advertisements
Affiliate Marketing
Advertisements
There are two options available to get advertisements for your blog. One is to choose from a wide range of third-party ad publisher programs like Google Adsense, Media.net etc. Second is to get direct advertisements. Direct advertisements are really hard to obtain when you are starting up. So, we will tackle the first one – Ad publisher programs.
Google Adsense and Media.net are two best ad publisher programs to monetize your blog. I recommend Google Adsense over Media.net. But we will cover both of them individually.
Google Adsense
As I had said earlier, Google Adsense is the best way to monetize your blog but to do so, you should have an approved Adsense account. Getting your Adsense account approved using your blogspot blog is somewhat easy when comparing approval through a brand new website.
Keep in mind that your blog must be 6 months old to apply for an Adsense account. There are no restrictions like this in few countries but the majority of the countries possess the 6 months restriction. So you should make use of this 6 month period to develop your blog to some extent and then you can apply for Adsense.
Click Earnings tab in your blogspot / blogger dashboard to sign up. Fill up the form and submit it. The approval process may take up to a week.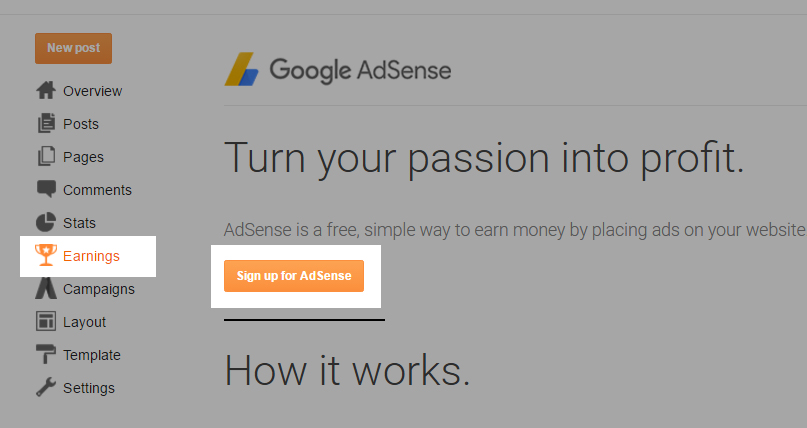 You will be able to see an option to display ads in the earnings tab of blogger dashboard once you get an approved Adsense account. Switch it to ON to display ads on your blog.
In simple terms, whenever a user clicks on an ad on your blog you'll get money. There are a lot of other factors that may influence your earning potential. We will cover few major Adsense optimization techniques in the following section. Please read Adsense terms and conditions properly. If you click on your own ad you might get banned and your earnings will be returned to the advertiser.
You can login to your Adsense dashboard to check Adsense earning. You will get paid in your bank account once you reach the payment threshold of $100 USD.
Few AdSense terms you should know before we jump into the optimization strategies.
Cost Per Click (CPC)
Cost per click determines how much you are paid for a click happened on an ad. AdSense is a majorly CPC network so your earnings are much dependent on CPC. CPCs are random, differs from one ad to other. Geographical locations affect your CPC greatly. For example, American countries have greater CPC than Asian countries. Hosting niche has greater CPC than Beauty niche. BBC.com will have greater CPC than yournewwebiste.com. Likewise, the list goes on and on.
Impressions
An impression represents single viewed ad. If your ad is viewed by 1000 people, then you are said to have 1000 impressions. Remember, impressions are different from page views. You can have 2 or more ad units on a single page. So a page view is equal to 3 impressions (assuming you have 3 ad units placed in the page).
Revenue Per Thousand Impressions (RPM)
The name itself tells you that it represents revenue earned from thousand impressions. Page RPM represents revenue obtained from 1000 page views.
Click Through Rate (CTR)
CTR is a percentage of how many clicks happened over the number of impressions delivered. The formula to obtain CTR is the number of times an ad is clicked divided by the number of times the page or ad unit is viewed.
Google AdSense Optimization Techniques
There are various factors that may influence your earnings such as niche, Geolocation, domain authority etc. We should optimize our ad units to get the most out of AdSense.
There is no limit on the number of ad units you can have on a page but AdSense restricts the loading of ad units if you don't have enough content. If you have 4000 words article, then you may place 6 to 8 ads in it. So, place a reasonable number of ads according to the amount of content you have.
Always experiment ad slots by changing Content, InArticle, Infeed and Link ad units to find out which ad units perform better.
Content unit tends to have high CPC. Link unit tends to have high CTR. You can decide which one to choose only after thorough experimentation. Sometimes you need to use both at different places.
Place ads where your visitors spend a lot of time. For example, visitors spend a lot of time in the content area, so you should include ads in between the content.
Location of your visitor is very much important. Concentrate more on getting visitors from American countries like US, Mexico, Canada to get higher CPC.
Create a good user experience, so that your visitor may spend some more time on your website.
Link related posts in each and every article to increase page views per visitor.
Media.net
Media.net is one of the good alternatives to Google AdSense. But you need to have a custom domain and good traffic before you can apply for a Media.net publisher account. So keeping a blogspot domain won't get your approval. Once you get good traffic and a custom domain, follow these steps to apply for a media.net publisher account.
Navigate to Media.net
Enter your name and website address
Wait for few days to get approval
You can start placing ads once you are approved. US & UK traffic is crucial in getting higher revenue in Media.net. Otherwise, you will get a decent revenue. Personally, I feel AdSense do a better job than Media.net in terms of quality of ads and Revenue. The choice is yours.
Affiliate Marketing
Affiliate marketing is a great way to monetize your blog. You promote links of a product or service in your blog. Whenever a purchase is made through your link, then you will get a certain percentage of commission. This process of marketing products and services is called Affiliate Marketing.
To earn affiliate income, you should promote products or service related to your niche. If your niche is about Books, then you should register yourself in a various bookstores affiliate program.
You can find various advertisers for your niche in affiliate marketplaces like Commission Junction, Impact Radius.
After registration with the respective program, you have to grab affiliate links from respective products and place it in respective posts.
The good thing about affiliate marketing is Cookie validity period. If there is 90 days cookie period, then your visitor can purchase the product or service within the 90 day period. Therefore, you will have guaranteed commission. Also, you will get paid for whatever they purchase through your link irrespective of the linked product/service.
I hope this article is useful for all those who want to make money online without Investment. Please share your feedback and comments.
Also read Unblock YouTube, Facebook and other websites easily